Stockton International Riverside Festival returns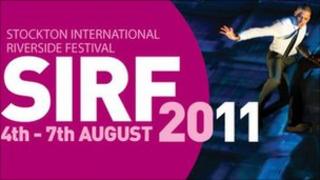 Stockton International Riverside Festival is taking place for the 24th year running.
Starting on Thursday 4 August, the four-day event is set along Stockton High Street, and will see performances from around the globe.
This year's finale is a giant mobile suspended from a crane, with 13 acrobats suspended from the mobile.
The BBC will be there, so if you fancy yourself as a TV presenter, come along and have a go with BBC Tees.
The event will take place along the High Street and across Stockton centre, with acts including street theatre and a carnival. For more information and a link to the programme, go here: Stockton International Riverside Festival 2011
Not free
This year BBC Tees will be at Enterprise Arcade on the High Street from 11:00 until 17:00 BST each day.
We will be showing you how to be a TV presenter with our interactive TV experience kit where you can try your hand at reading the sport, weather or a news bulletin.
During the four days you will have the chance to meet the faces and voices from BBC Tees and Look North as they pop in to show you how to do the job from 12:00 BST each day.
This year the music and comedy part of the festival is not free, you can find out more about what is on here: Stockton Weekender
And more about the name change here: Stockton Weekender - Was The Fringe!