Protest over Hartlepool hospital A&E closure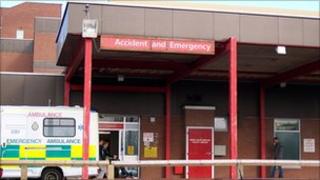 Campaigners are making a last-ditch effort to save the accident and emergency unit at Hartlepool's University Hospital from closure.
Hundreds of protesters gathered in the town to oppose the decision to shut the department next week.
Some said their concerns were not being listened to and there was still time to fight the closure.
North Tees and Hartlepool NHS Trust said there would be no U-turn and most people would be treated in the town.
Not enough staff
Trust medical director David Emerton said the majority of patients would be treated at Hartlepool's £20m One Life centre, in Park Road, or the emergency assessment unit at Hartlepool's hospital.
He said a small number of patients would be taken to the A&E unit at North Tees Hospital, in Stockton.
Campaigners had run an eight-year battle to save the unit.
Among their concerns were the distance to Stockton and that it was important for hospital-based A&E to remain in Hartlepool.
A review concluded the department could not attract enough senior staff to run the service safely.