Hartlepool hospital's A&E closes despite protest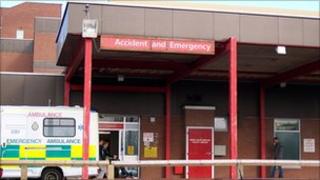 Campaigners to keep the University Hospital of Hartlepool's accident and emergency unit say they have not given up their fight despite its closure.
A major shake-up of emergency treatment in the town has now come into force.
North Tees and Hartlepool NHS Trust said most people would still be treated in the town.
The closure followed a last-ditch protest last week, but campaigners said they were still hopeful the service could be returned.
Keith Fisher, who has been running a wider campaign to protect Hartlepool's hospital, said it was of such a size that it should have an A&E department.
Scrutinise changeover
He said: "It is another slice of our hospital. The fight to keep our hospital will go on.
"I am confident that the fight to return some of our services, including A&E and the maternity, will continue until there is possibly another election and we attract more political will to do so."
The Trust said the majority of patients would be treated at Hartlepool's £20m One Life centre, in Park Road, or the emergency assessment unit at Hartlepool's hospital.
A small number of patients would be taken to the A&E unit at North Tees Hospital, in Stockton, it said.
Trust medical director David Emerton said there had been a lot of good work done in the department and assured patients the same people would be providing care.
He said a lot of effort had gone into communicating the changes to people.
Hartlepool Council's health scrutiny forum chairman, Stephen Akers-Belcher, said its priority would be scrutinising the changeover to make sure people know what to do.