Middlesbrough's Stewart Park restoration takes shape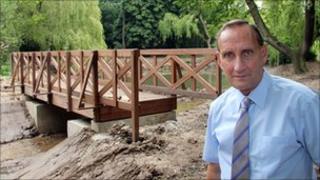 Work on an £8m restoration project of Stewart Park in Middlesbrough is starting to take shape.
The multi-million pound grant will improve the park's lakes, paths and woodland area and many of its Victorian buildings will be opened up to the public.
This week two new timber bridges were put into place, restoring the ponds to their original Victorian outlines.
The restoration work is due to be completed by next spring.
There will also be a new visitor centre, education venue, shop, training workshops and public event spaces.
Stewart Park Manager Dave Miller, said: "Stewart Park is an asset not just for Middlesbrough, but for the region as a whole, so it's great to see the restoration and development work really starting to take shape.
"The park has always been a popular family attraction, but these major improvements to the lakes, paths, woodland and estate buildings will make it more popular and accessible than ever."
Opened to the public in 1928, the 47-hectare (116-acre) park is most famous as the birthplace of explorer Captain James Cook.
The site of his cottage is marked by a granite vase in the nearby Captain Cook Birthplace Museum.
Stewart Park was originally laid out as a manor house and deer park in the early 1800s by a wealthy army major, with the entire village of East Marton removed to create it.
The park was once in the ownership of Middlesbrough iron magnate Henry Bolckow in the 19th Century, but it was handed over to Middlesbrough residents and formally opened in 1928.
The transformation of the park was boosted by a grant of £4.4m from the Heritage Lottery Fund and Big Lottery Fund.
The remaining money will come from Middlesbrough Council, the Trustees of Stewart Park, the government's Playbuilder scheme, the Healthy Town Programme and Middlesbrough College.