Cleveland Chief Constable Sean Price still in custody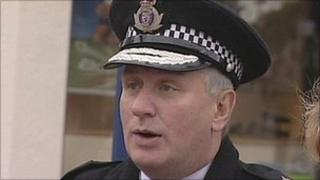 Cleveland Police's chief constable and his deputy continue to be questioned after their arrests in an inquiry into fraud and corruption allegations.
Chief Constable Sean Price and his deputy Derek Bonnard were held in the investigation being conducted by Warwickshire Police.
Former force solicitor Caroline Llewellyn was also arrested and has been bailed pending further inquiries.
Mr Price and Mr Bonnard have both been suspended from their jobs.
Warwickshire Police said the three were arrested on Wednesday and taken to a North Yorkshire police station to be interviewed.
Its statement said: "Police officers conducting a criminal investigation into a number of people with current or past associations with Cleveland Police Authority and the manner in which the authority may have conducted some of its business have arrested three people on suspicion of misconduct in a public office, fraud by abuse of position and corrupt practice."
A number of premises were also searched.
'Neutral act'
In a statement, Cleveland Police Authority said: "The authority can confirm that two chief officers have been suspended from their posts with Cleveland Police while the investigations are being considered.
"It should be emphasised that suspension is a neutral act and it should not be inferred from the decision to suspend that the potential conduct matters have been proven in respect to the two chief officers concerned."
The Cleveland Branch of the Police Federation said it could not comment on the allegations but hoped the matter would be concluded as quickly as possible.
In May, Mr Price said he was considering taking legal action after the Independent Police Complaints Commission [IPCC] announced it was investigating a claim that he used "undue influence" to appoint a member of staff to his force.
He denied the allegation, which he described as "malicious", and said he would assist the inquiry in every way possible.
The IPCC said the allegation came to light during a review by Her Majesty's Inspectorate of Constabulary into the way some individuals within Cleveland Police Authority "may have conducted some of [their] business".