Doctors do cycle ride for research into fatal disease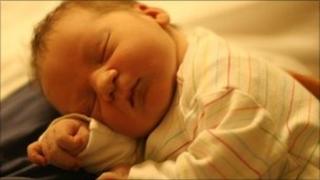 A team of doctors is doing a one-day 125-mile coast-to-coast ride to fund research into a rare condition that took the life of a 15-day-old boy.
The doctors from James Cook University Hospital hope to raise awareness of Alveolar Capillary Dysplasis (ACD) for which there is currently no treatment.
They are led by Dr Simon Ashwell who lost his newborn son David to the rare congenital condition in March.
The ride will take place in September and take around nine hours.
'Devastating'
ACD involves abnormal development of the capillary vascular system around the alveoli of the lungs and while babies with ACD may appear normal at birth, within minutes or hours they develop incurable respiratory distress.
Dr Ashwell said: "This is a devastating and fatal illness which my wife and I sadly experienced in March of this year when our baby died at two weeks old.
"It's very rare - there are a lot of unanswered questions even to the extent where we don't know to what extent the disease is inherited or sporadic - so the money raised will go towards medical research."
Dr Ashwell will be joined by John Main (consultant in renal medicine), Richard Cree (consultant in intensive care), Andrew Heath (clinical perfusion scientist), Mike Foley (consultant cardiothoracic anaesthetist) and cardiothoracic surgeon Simon Kendall with his son Thomas, will cycle from Morecambe to Whitby.
Their ride will raise money to fund the next ACD research grant to support research into the condition.