Victim Garry Bell threatened with gun for sandwich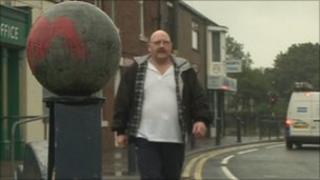 A 51-year-old man on his way to work had a gun held to his head by a robber who tried to steal his sandwich.
Nightshift factory worker Garry Bell was walking along the A688 in Bishop Auckland on Sunday night when he was approached by a youth.
The robber held a gun to his head and demanded the bag, but Mr Bell held on to it and the youth ran off.
The robber was aged about 17. Mr Bell said he believed he had been under the influence of drink or drugs.
Mr Bell said: "It was a main road where he did it so he must have been on something, so I thought he was messing but then he went for the gun and went for my carrier bag."
Durham Police said it was unclear whether the gun was real or a replica.