Darlington's Middleton Lodge could close over failings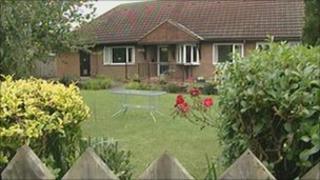 A care home has been threatened with closure after inspectors found a catalogue of failings including residents not being fed properly.
Care Quality Commission (CQC) inspectors also criticised Middleton Lodge in Darlington for its "appalling" hygiene standards.
The facility is home to 10 adults with learning disabilities.
Owner Potensial Ltd said it had taken immediate and decisive action to make improvements since the visit in June.
The home will be re-inspected on Thursday and could be closed if it has failed to make further improvements, the Commissioned confirmed.
Other failings at Middleton Lodge noted by the CQC included poorly kept medical records and untrained staff giving medical injections.
The home was also found to be in a poor state of repair and have heavily stained carpets and mattresses.
Inspectors also said some residents were "not receiving the correct levels of food and nutrition".
'Safe and pleasant'
Other problems highlighted included broken bedroom light switches, broken furniture and a dirty kitchen.
A spokesman for the CQC said: "The care home will be inspected again today.
"We know improvements have been made since the last inspection but there is the possibility of its registration being cancelled and closure of the home."
Birkenhead-based Potensial Ltd has 25 care homes in the north of England.
The company said in a statement: "We place great emphasis on ensuring that the people we support receive the highest standard of care within a safe and pleasant environment.
"Since the date of the CQC visit in June, immediate and decisive action was implemented at Middleton Lodge to make improvements and to address the concerns raised in relation to the essential standards.
"Potensial Ltd understands that there is never a time for complacency, and is determined to continue its ongoing scrutiny and review of all our procedures and values to ensure that the company and its services are focused around the people we support."