Old Corus blast furnace in Redcar to be fired up by SSI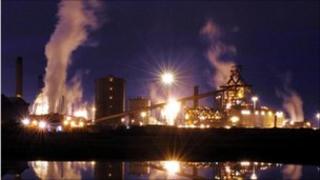 The former Corus steelworks blast furnace in Redcar will be fired up again on 8 December, SSI has announced.
An online recruitment campaign for the works began on Monday and has so far seen more than 6,700 people register an interest in the 1,000 jobs.
The plant was mothballed in February 2010, when it was owned by Tata Steel, and subsequently bought by SSI UK in March 2011.
Phil Dryden, CEO of SSI UK, said: "I am now confident we can meet this date."
Application help
Redcar councillor George Dunning said he was already looking forward to the long-awaited date: "The reigniting of the steel plant is something that we have long been campaigning for and, if SSI achieve the target of December, it will be the best possible Christmas present for both Redcar and Teesside as a whole.
"The council is playing a key role in helping local job-seekers to apply for the many posts now available and it would be fantastic to see them forming part of the new workforce when it sets about reviving our proud steel-making tradition."
Redcar and Middlesbrough councils are working with libraries and Job Centre Plus to help those without computer access to apply for the jobs.
Redcar and Cleveland councillor Sheelagh Clarke said: "The only way to apply for these jobs is online, we all think everyone has a computer at home, but in fact we've been amazed at how many have taken advantage of this [free computer access].
"The staff will set you up, help you to do a CV build, and get the application in. The staff are there to support you and help you."