BBC Introducing: Jacques and the Giants from Middlesbrough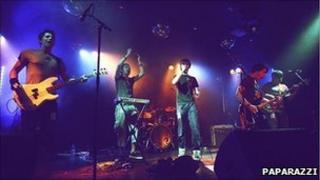 Jacques and the Giants are a six-piece band from Middlesbrough - describing their sound as a mix of pop, punk and rock.
Influenced by the likes of Funeral for a Friend, Red Hot Chili peppers and Biffy Clyro, the band met each other whilst studying at college.
Forming Jacques and the Giants last Summer, they describe a gig in their home town as their best to date "we played The Middlesbrough Empire, that was probably the pinnacle of our career so far.
"It was a cracking day and night", said drummer Kyle.
The band is made up of Sam Shepherd (lead vocals), Jacques Peacock (guitar), Billy Cain (guitar and vocals), Ibbi Watson (synth and keys), Tom Hobson (bass) and Kyle Tester (drums).
'Like brothers'
Forming a strong bond in college, they describe themselves as being like a family "it's something we all enjoy, we are like brothers, we fight, we argue but when we get on stage we give it our all", said Kyle.
When asked to describe who the band are inspired by, their close bond becomes apparent "this is where the arguments start, we tend to add elements of all of our favourite bands in all the songs we write to avoid bickering.
"But sometimes you can't, and that's when the practice room turns into one big Jeremy Kyle show, but it turns out all good in the end", added Kyle.
Gigging mainly in Middlesbrough and the north-east of England, the band are now hoping to play some major venues or festivals.
Guitarist Billy, said: "We see all of our gigs as our best ones as we try and reach the top of our game every time.
"Although we have played some pretty rubbish ones in the past, we hope that won't happen again.
"We have no major gigs on our calendar yet, but hey, we are always looking for them."
The band are now in the studio working on the release of an EP which will be available at their upcoming gigs.
To find out more about Jacques and the Giants, visit their Facebook page.