East Cleveland girl stuck in mud rescued by RAF Boulmer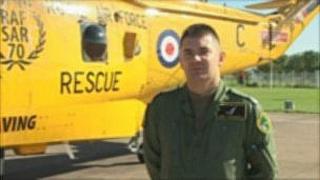 A teenager from East Cleveland was rescued by a helicopter crew after falling from a cliff and getting stuck waist-deep in mud.
Jordan Edwards, 13, from Saltburn, fell about 20ft (6m) between the beach and the cliff top at Cattersty Sands in Skinningrove.
She was looking for her dog when she lost her footing and became trapped on the 45-degree cliffside.
RAF Boulmer and the coastguard's rescue team were called to the scene.
Winchman Flight Sgt Andy Unsworth who went to the scene, said: "She had been trapped in the mud for quite some time so she was starting to go a little hypothermic and it was getting towards dusk so the temperature was going to drop.
"It was quite urgent that we got her off the cliffside as soon as possible. She had been trapped in the mud for some time with pressure on her legs."
A Sea King helicopter from RAF Boulmer was called to the scene as it was too dangerous for the teenager to be carried up the muddy slope by the rescue team.
Winchman Unsworth added: "The rescuers that got to her had struggled, you could see their footprints everywhere and it had been too dangerous for them to carry her down on the spinal board that she was on.
"It was just a case of quickly deciding what kit I needed to transfer her to the aircraft. We initially winched the grandfather up who was with her.
"She was a little bit nervous as you would be going into a helicopter for the first time. I don't think she's been near one let alone winched into one in a stretcher, but she seemed to enjoy the experience considering what she'd been through."