Stockton girl Georgia Horn always has Elvis on her mind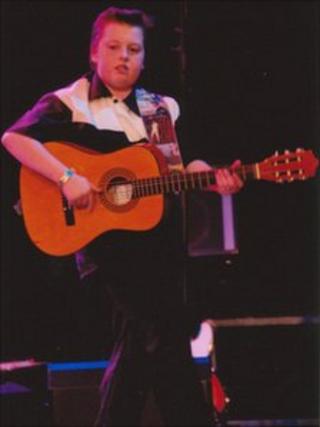 A girl from Stockton who became an Elvis Presley impersonator at just seven years old has set her sights on the bright lights of Las Vegas.
Georgia Horn, now 10, developed a real passion for "the King" three years ago after learning to sing Love Me Tender at school.
Elvis then took over her life after watching one of his concerts on television.
"She was literally mesmerised," said Georgia's mother Sue.
Now Georgia performs as "Gelvis", entering competitions all over the UK in the hopes of one day having her own show in Vegas.
After a singing lesson at school, Georgia could not stop singing Love Me Tender at home.
One day, while watching television, one of Elvis's concerts came on and Georgia was hooked.
Her mother said: "She sat and watched the whole thing and that was it. She loved him from when she first saw him."
Replica outfits
Since then, Georgia has developed a passion for the King, constantly singing his songs and learning to play them on her guitar.
Georgia then decided she wanted to become an Elvis impersonator and started watching DVDs to copy his moves and mannerisms for her own act.
She started going to watch other local impersonators on stage and began entering competitions.
Her mother even made her mini-replica versions of Elvis's outfits to wear.
Georgia said: "I really wanted to do Elvis. I just like doing it and I like performing in front of people.
"When there's loads of people watching and joining in, it makes me happy."
Mrs Horn said: "I get nervous - she doesn't, she loves it. I've told her it's not about winning, it's about taking part.
"It's unusual, but it's great really. She has met a lot of great friends and nice people through the gigs."