Stockton Council wins Billingham House legal row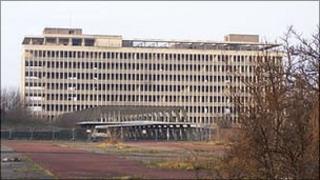 A council has won its legal fight to bulldoze a derelict 50-year-old office block in Stockton.
Billingham House, the former ICI headquarters, in Belasis Avenue, has been made an eyesore by vandals and arsonists over the years.
Its owner Bizzy B Management had wanted to refurbish the building.
But a judicial review at London's High Court has ruled that Stockton Council can demolish the building. Bizzy B said it might appeal against the decision.
Speaking on behalf of Bizzy B, Peter Broome, of Python Properties, said his firm signed an agreement with Bizzy B to redevelop the area in November 2010.
He said he had sent a proposal to the council about improving the building's structure and was awaiting a response.
'Lengthy saga'
Councillor Mike Smith, Stockton Council's cabinet member for regeneration, said: "We are delighted with this decision as we have fought long and hard on behalf of the local community to finally rid the landscape of Billingham House.
"Bizzy B has been the cause of this lengthy saga and put every legal obstacle possible in our way to prevent the people of Billingham getting what they want.
"Regrettably, we have been in this position before with Bizzy B and we wanted to do everything in our power to ensure the council is not put in that position again."
Pre-demolition work on the site has already begun.
In 2007 plans to turn the building into flats fell through.