Spider-Man statue stolen from Middlesbrough rooftop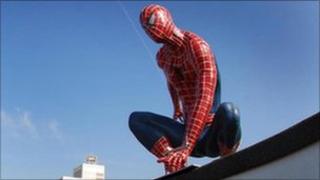 Thieves on Teesside have made off with a 6ft Spider-Man that sat on top of a shop rooftop.
The distinctive resin statue of the crouched superhero has overlooked the former CHIPS computer gaming store in Middlesbrough for years.
A spokesman for Richer Sounds, which has recently taken over the site, said he believed it had been taken as a prank and not for financial gain.
Police have launched in inquiry following the theft earlier in August.
The spokesman for Richer Sounds added that the superhero's right arm had been left behind by the thieves in their hurry to escape.