Suspension lifted on councillor Dave McLuckie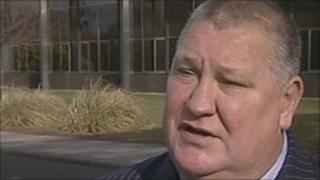 A suspended councillor has been reinstated in his role with the local Labour Party group.
Dave McLuckie, ex-chairman of Cleveland Police Authority, was placed on administrative suspension by the Labour Party in May after a police inquiry.
He denied any wrongdoing, saying he did not know the nature of the allegations.
Redcar and Cleveland Group lifted the suspension due to "a lack of clarity" over the timescale of the investigation into the police authority.
Councillor McLuckie said: "Obviously I'm delighted the Labour Party has taken this decision and I'd like to express my appreciation for the careful consideration the Party has given to this matter."
A statement from Redcar and Cleveland Labour group said: "The Labour Party has lifted his suspension forthwith, on the basis of lack of clarity, thereby readmitting him into Redcar and Cleveland Group and its processes and activities."
Warwickshire Police are leading a criminal investigation into a number of people associated with Cleveland Police Authority.