Darlington Railway Station cycle compound is now open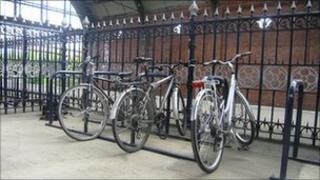 A £46,000 compound has opened at Darlington Railway Station as part of a scheme to reduce traffic.
It was designed as part of the station's travel plan which aims to encourage rail passengers to use public transport, walk or cycle.
The purpose-built facility has space for 152 bikes and can be accessed 24-hours a day via a key card system.
Users will pay a £5 returnable deposit and will be given a swipe card which they can use to enter the compound.
The scheme was funded by Local Motion, which worked in partnership with rail operator East Coast.
Darlington Council cabinet member for transport, Councillor David Lyonette, said: "Darlington Bank Top Station's position on the national rail network is a major asset for the borough.
"The provision of secure, well located cycle parking is essential if people are to be encouraged to use a bicycle as a means of transport to the station, in the knowledge the risk of damage or theft of their bike is minimal."