Hartlepool's new £53m college opens its doors to students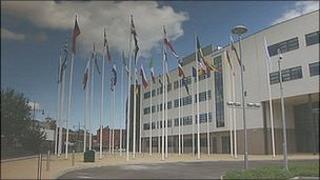 Hartlepool's new £53m College of Further Education has opened its doors to students for the first time.
Work on the college, based in Stockton Street, started in October 2009 after the original £62m plans were revised.
It has now opened for students wishing to learn a wide range of courses from sports science to hair and beauty.
The college was one of only 12 projects, out of 144, approved after a Learning and Skills Council (LSC) funds shortage.
The plans were originally for a simple £5m extension to the existing college, but ended up as total rebuild.
The new college has a conference centre, gym and bistro.
Assistant principal Steve Wallace said: "The architects have worked very, very closely with the students and also the staff to actually plan exactly what we need for our curriculum needs.
"To see it realised and see those first students come in is very very pleasing, and I must say we're absolutely delighted with the final product."