First timer takes on the Great North Run for charity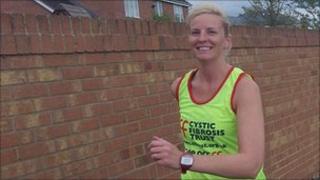 For one 34-year-old mother-of-three the decision to take part in the Great North Run was made for her.
When Cassandra Jackson could no longer get up their stairs without getting out of breath her husband Richard bought her some trainers.
He told her to told her to tick the run off on her "list of things to do in life" and put her down to raise money for chairty, another first for Mrs Jackson, who lives in Billingham.
She will be running alongside more than 50,000 runners in what is thought to be the world's biggest half marathon, from Newcastle to South Shields on Sunday 18 September.
She said: "This is the first time I've done anything for charity.
"I have helped out at coffee mornings and things... but this is the first time I've raised money on my own."
Life list
Last year, her husband ran the London Marathon and raised £5,000 for the same charity so when she struggled to do any exercise without being out of breath, he bought her the trainers for Christmas.
"I have this list and the run is on there but I didn't think I'd do it so soon, it seemed like an unrealistic goal, but I am doing it.
"I don't like doing it on my own, I met another girl whilst out running and we arranged to run together each week.
"Now I can chat my way round and not realise how far I've gone, it makes a huge difference.
"I'm blessed with two children who are healthy, but my friend Kerry Raper has two children with CF (cystic fibrosis), so I want to do this for her and her children.
"They'll all be there on the day to cheer me on and keep me going.
"I'm worried about it but there'll be no stopping, I just need to keep going. I'm hoping to do it in two hours and 20 minutes. I'd be happy with that time.
"I tried to join a running club to help me train for the race but couldn't find it, and instead found a cycling club. I joined that instead and love it.
"In fact, once I've done this race that'll be the end of running for me but it's not the end of my charity work. I'll be out on my bike next year!"