Middlesbrough TV licence man jailed for rape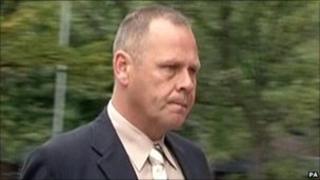 A TV licensing inspector who raped a pregnant woman on Teesside has been jailed for six years.
Gary Catterick, 49, of Broadwell Road, Middlesbrough, attacked the woman after she asked him if he would like coffee when his car broke down in November.
Catterick, who denied rape, was also ordered to be on the Sex Offenders Register for life.
The Teesside Crown Court jury disbelieved his story that sex was consensual and found him guilty.
In an interview filmed by police, the victim said: "I was felling sick and disgusted like it was my own fault for letting him in.
"I was crying.
"I knew what he had done. He had raped me."
Sentencing him, Judge John Walford said: "You cruelly and self-indulgently repaid the kindness and consideration of this young woman by raping her.
"She was young and vulnerable, she was a victim in her own home."