Bishop Auckland hospital maternity unit reopens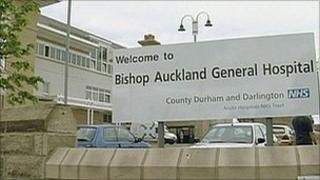 A hospital maternity unit in County Durham which shut because of a shortage of midwives has reopened.
The unit at Bishop Auckland General hospital closed at the start of July.
The shortage was caused by some midwives leaving and by sickness among a number of others.
County Durham and Darlington NHS Foundation Trust said it had taken steps to try to prevent staff shortages affecting the unit in future.
Head of Midwifery Anne Holt said: "It feels really good and the staff are really delighted to have the unit back and up and running as we promised we would in July."
The unit, one of three in County Durham and Darlington, was closed on 2 July on grounds of patient safety.
Ms Holt said: "We moved staff from Durham, we moved staff from Darlington but it came to the point where we couldn't cover all of the rotas safely particularly during the peak holiday time."
During the closure they had examined new ways of staffing in the hope of making it more resistant to such shortages.