Hartlepool United's fanzine Monkey Business goes online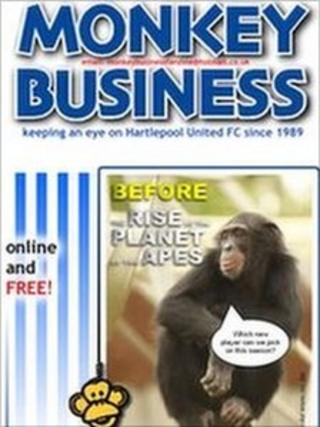 A new era is underway for one of Teesside's best known football fanzines.
Monkey Business, the Hartlepool United supporters magazine, is now being posted on the internet rather than printed and sold outside Victoria Park.
It is hoped the move will make it easier for Pools' fans around the world to read and contribute to.
Middlesbrough's Fly Me To The Moon fanzine is now the only traditional football fanzine left on Teesside.
Lost romance
Monkey Business ran for 103 editions and was named best fanzine in League 1 in 2008.
It specialised in celebrating the vagaries of life as a Pools fan while satirising the struggles and shenanigans at North East rivals Darlington - or "Doylington" - as it is referred to in the style of the Quakers' former chairman George Reynolds.
Outgoing editor John Cooper admitted the fanzine had lost some of its romance since fans could no longer buy it on their way to a match but said it still provided a vital outlet for supporters.
"If you look at what you can read about Pools you've got the official website, which is always going to be controlled by the club," he said.
"But stuff set up by the fans for the fans is somewhere you can voice concerns or praise the club."
At its peak, Monkey Business sold 1,000 copies of each edition.
The self-styled "best fanzine on sale in Seaton Carew" was first published in 1989, at a time when then genre was at its most popular and influential.
'Good laugh'
Middlesbrough's fanzine Fly Me to the Moon had also just been created.
Editor Rob Nichols said fanzines gave real supporters a voice.
"In the 80s we had a situation where the government wanted to introduce membership cards, branding all fans the same," he said.
"This was a way to let fans express themselves, show there was a vast variety of people going to matches with a lot of thought and humour. We wanted to show they had something to say."
Monkey Business was launched with the twin "commandments" of preserving "life as we know it at Victoria Park" and "having a good laugh at the expense of ex-leaguers Darlington."
More than two decades later, with record season ticket sales at the Vic and with their North East rivals languishing in the Conference again, it could be considered mission accomplished.
Longtime contributor Ian Malcolmson said the online edition would send the Monkey Business message across the globe.
"It's world wide, everyone can get in," he said. "People in Australia, the fans who would sometimes get the magazine sent out to them.
"Kev in China. He can get online now and it won't cost him nowt!"