Middlesbrough Town Meal: Local produce in urban spaces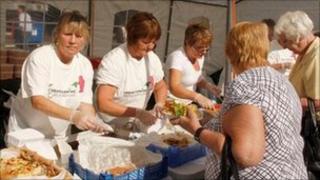 Green-thumbed Middlesbrough residents are poised to taste the fruit of their labours, as preparations get under way for the annual Town Meal.
The event, on 24 September, features produce grown on patches of spare land.
Schools, community groups and families have been taking part in the growing project.
Pete Barnes, who cultivates one of the allotment plots, described it as hard work, but great fun for all the family.
"It's an education, for them and for us, as well as a way of keeping fit."
He added it was also good way of encouraging healthy eating, as his children, aged eight and 12, were more likely to taste things they had helped produce.
"It really does make a difference," he said.
"Take Brussels sprouts - kids see them in frozen packets and say: 'I'm not eating that', but when they see them growing on a stalk out of the ground they are more likely to try them."
His family is one of more than 100 community groups producing their own fruit and vegetables.
Some of this is donated in the run-up to the Town Meal, to be cooked by local school dinner ladies, and served at the open-air event in the centre of Middlesbrough.
Now in its fifth year, organisers are hoping for a repeat of the sunny weather which encouraged 10,000 people to attend in 2009.
Over the past five years, growing sites in Middlesbrough have included parkland, school and hospital grounds and even town-centre planters.
Shrubbery outside the Town Hall has been replaced by raised beds where vegetables are cultivated, and last year a formal garden was created out of vegetables in front of the MIMA gallery and exhibition centre.
Middlesbrough Environment City is working with the council to bring existing empty allotments into use.
Mark Fishpool, from Environment City, said: "For modern life a full size plot is too big, they were originally devised to feed families, so people ran them as smallholdings.
"We offer a series of taster plots on a training site, moving people onto bigger plots as they get more confident.
"More importantly, we are providing people with skills, as common knowledge of how to grow your own fruit and vegetables is gradually disappearing.
"We have existing allotment-holders mentoring new gardeners, showing them tricks of the trade."
Much of the produce finds its way on to the tables of the Town Meal, which has attracted interest from as far afield as a media outlet in Athens.