Cleveland Police PCSO's set up blood delivery service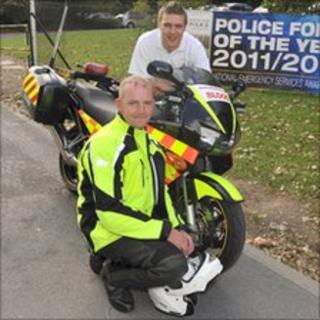 Two police volunteers have set up a service to help keep hospitals and medical centres supplied with blood.
Jon Formstone and Mark Say help transport supplies during evenings or weekends when the internal courier system is not operating.
North Tees and Hartlepool NHS Foundation Trust used to rely on taxis to transport the blood before the Tees Valley Blood Bikes service was set up.
The PCSOS raised money through a 3,000-mile motorcycle trip around the UK.
Donations also led to the team acquiring two Honda VFR motorcycles, which were modified with blue flashing lights for use in emergencies.
Mr Formstone, 36, said: "We have carried out around 30 trips in just over a month which would have cost the NHS and the taxpayer if the Blood Bikes service wasn't available, so it shows how important the service is."
Mr Say, 28, said: "Being a PCSO is a worthwhile role in which you work to protect the public and resolve neighbourhood priorities.
"Having a role in the Blood Bikes is an extension of that and is something that I love being involved in."