Building work ends at £2m mosque in Stockton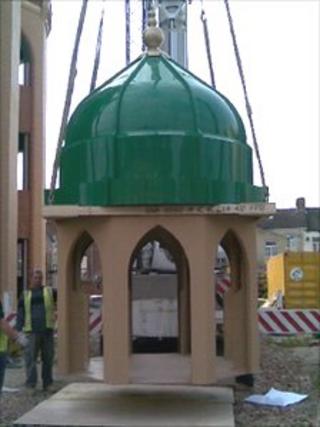 A £2m project to build the only purpose-built mosque in Teesside is nearing completion.
The main building work on the Stockton mosque has been completed and the dome that will form part of the minaret was added on Thursday.
The outside of the mosque is expected to be finished in three weeks' time.
The build which began in 2007 is being funded by residents, with the aim of becoming a centre for the community.
Community project
From the day the foundation stone was laid in June 2007, until the day the mosque opens its doors to the public for Ramadan in July 2012, this project has been a community labour of love.
Dr Mohammed Riaz from Hartington Road mosque, which will eventually be replaced by the new mosque, said building work ground to a halt during the credit crunch as it was being funded by local residents.
He said he hoped the three-storey building on Bowesfield Lane in Stockton will be used by everyone in the area: "What we want is for the local community to come into the mosque, have a look around and learn about Islam.
"We will [also] have a central library which will be open to all residents, not just Muslims, with computer rooms and other activities."