Aimee Yule praised for stopping brutal street attack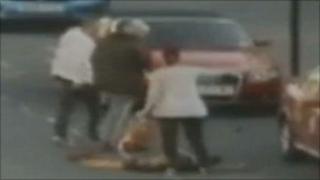 Police have praised a woman who stopped an "horrific" attack on a man in a busy town centre street.
Aimee Yule, 22, intervened when she saw Simon Taylor, 31, and Ryan Piggford, 28, repeatedly kick and punch their victim in Northgate, Darlington.
Durham Police praised Miss Yule and said she was "magnificent".
Both men, from Darlington, admitted grievous bodily harm at Teesside Crown Court and were each jailed for four years and eight months.
The attack was filmed on CCTV on 27 July at about 19:00 BST when it was still light.
The footage showed Miss Yule, who saw the attack from the taxi office where she works, running over to help Jason Waters, 22, as he was repeatedly attacked.
A number of people were also seen walking and driving past the attack.
Miss Yule was shown confronting the attackers then putting Mr Waters in the recovery position.
The footage is too violent to be shown.
Miss Yule said: "One of the lads was quite big, but I wasn't scared - I was more scared for the injured lad and that's what made me approach them.
"I could see blood and I could see them stamping on his head and that was not nice to see.
"So that was my initial thought to try and help him first - they were my last worry."
The court heard how Piggford, of Greenbank Road, and Taylor, of Peabody Street, were drunk at the time of the attack.
Mr Waters suffered fractures to his hand and foot, but made a full recovery.
A Durham Police spokesman said: "Aimee was magnificent - this was an horrific attack and a lot of people walked past."
Miss Yule added: "I did think the attackers were going to hit me, but then they just went.
"Then police arrived and the ambulance and a doctor pulled over in his car."