Collapse Bishop Auckland shop exclusion zone extended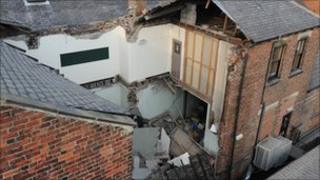 The exclusion zone around a building in County Durham town which partially collapsed has been extended.
Shoppers were led to safety when a rear section of the three-storey store containing a branch of Mothercare, in Bishop Auckland, collapsed on Thursday.
No one was injured. The area was cordoned off and safety work has been continuing.
Durham County Council said the exclusion zone, in Newgate Street, had now been extended to 8m (26ft).
It means a number of neighbouring shops will be temporarily closed. It is hoped some of the shops will be able to be reopened at the end of the week.
Council corporate director of neighbourhood services, Terry Collins, said: "The most important thing is to make sure members of the public are safe and as such, we have taken the decision, on expert advice, to extend the exclusion zone around the building.
"Unfortunately this will inevitably impact on these businesses and shoppers in the area and I would like to take this opportunity to thank both the retailers and residents for their patience."
Scaffolding will be put up around the Mothercare building, because the structure is considered unsafe.
The council said it was continuing to investigate the cause of the collapse.