County Durham 'Merry-Go-Round' wagon memories sought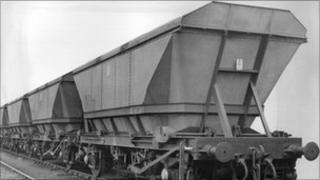 A railway museum in County Durham is appealing for memories from former employees who worked with Shildon's Merry-Go-Round (MGR) wagons.
Locomotion: the National Railway Museum at Shildon, wants former workers of Shildon Wagon Works to come forward with their stories for a project.
The introduction of the new Merry-Go-Round coal hoppers revolutionised the movement of coal by rail in Britain in the 1960s.
The last wagon was built in Shildon in 1982 and is on display at the museum.
Tony Attle, Education Officer at Locomotion, said: "Coal wagons have a long history of being made in Shildon, with over 150 years of coal transportation out of the town.
"Merry-Go-Round wagons are an important example of this... it represents the achievements made at Shildon Wagon Works and the important role that Shildon played as a railway town.
"But we need more information from people who worked in the industry to interpret this object. We hope that people will help us achieve this by coming forward with their stories and memories".
A train of Merry-Go-Round wagons revolutionised coal transportation by being able to load and unload its cargo while still moving, therefore maximising efficiency of the wagon fleet.
After the closure of Darlington Works in 1966, MGR wagon production continued at Shildon until the last wagon was built in 1982 at Shildon Wagon Works before it closed in 1984.