Darlington attack victim Jason Waters thanks Aimee Yule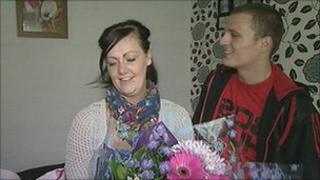 The victim of a brutal street attack has told the woman who intervened that he owes her his life.
Aimee Yule, 22, stepped in to stop two drunken men from punching and stamping on Jason Waters as he lay unconscious in a Darlington street in July.
Meeting Miss Yule for the first time since the attack, Mr Waters, 22, said: "I will never be able to repay her."
Simon Taylor, 31, and Ryan Piggford, 28, from Darlington, were later jailed for inflicting grievous bodily harm.
CCTV captured the attack, in which Mr Waters was repeatedly kicked in the head and stamped on in a daylight attack.
Miss Yule, who works in a nearby taxi office, ran out to confront the attackers while motorists and shoppers looked on.
Presenting her with flowers, Mr Waters told Miss Yule that she had saved his life.
He said: "I owe her my life. There's nothing in the world I could ever do that would repay her.
"It was weird watching the footage. I didn't feel like it was really me on the ground, but it was."
Miss Yule said: "I could not just stand there and watch what was happening.
"It was just as though they were kicking a dog.
"Even while I was kneeling by Jason's side one of them still came back to have another go."
Police praised Miss Yule for her actions.
The attackers were each jailed for four years and eight months.
Teesside Crown Court heard how Piggford, of Greenbank Road, and Taylor, of Peabody Street, both Darlington, were drunk at the time of the attack.
Mr Waters suffered fractures to his hand and foot, but made a full recovery.