Bras wanted for Breast Cancer charity in Middlesbrough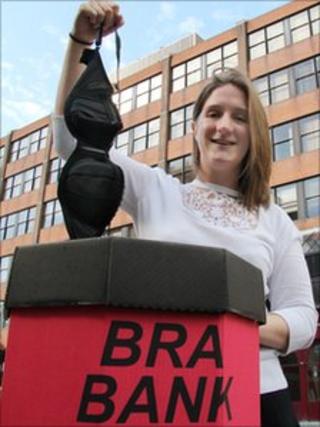 Women in Middlesbrough are being urged to donate their unwanted bras to help fight breast cancer and improve the lives of people in deprived countries.
On Saturday, charity Against Breast Cancer want women in the region to bring along their old and unwanted bras to a bra bank in Centre Square, Middlesbrough.
The donated bras will then be given a new lease of life in Africa and also help raise funds for Against Breast Cancer's research into the disease.
For every ton of textiles (9,000 bras) deposited in the bra bank, BCR Global Textiles will donate £1,000 to Against Breast Cancer.
The company send the bras to small businesses in Africa, where bras are too expensive to produce. Once there they are given a new life by traders who sell textiles locally.
Claire Bell from Middlesbrough Environment City, said: "I look forward to seeing people bringing their bras to the bank on Saturday.
"Almost every woman has at least one or two old or ill-fitting bras which they never wear. It's a good way to get rid of materials that would just be put in the bin.
"You're helping to raise money for a charity and from a woman's perspective, you're investing in your own health as such a high number of women develop breast cancer."
According to Breast Cancer Care, breast cancer is the most common cancer in the UK with nearly 50,000 people being diagnosed each year.
The bra bank is part of Middlesbrough's Town Meal event.