Longer closure for Mothercare shop collapse street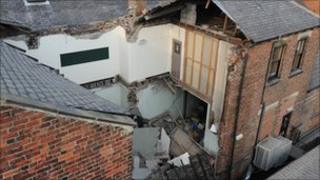 A section of street in County Durham where a building partially collapsed is to remain closed.
The council hoped that Newgate Street in Bishop Auckland would be able to open on Monday once hoardings were put in place around the Mothercare store.
However, experts have now advised that in the interests of public safety the exclusion zone should remain in force.
Shoppers had to be led to safety when a rear section of the three-storey building collapsed on 15 September.
Stuart Timmiss, Durham County Council's head of planning, said: "Our priority is to protect the public and the officers we have on site, however we also want to get the shops affected back trading as quickly as we can.
"To get a real understanding of the cause and consequences we need to get our inspectors in to the premises, and we now hope to be able to do that on Sunday."