BBC Introducing: mima open mic night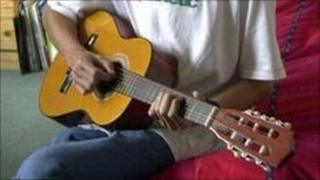 Bands, singers, artists and musicians in and around Middlesbrough are being invited to the mima open mic night.
The monthly event offers musical types a chance to play in front of a crowd, and leave with a recording of their performance.
Organiser Gavin Smith said: "It's a chance to play in one of Middlesbrough's flagship venues.
"We have a few acoustic guitars, and a stripped down drum set up so if people come down then fancy getting up they can.
"One thing I like about it is that mima is generally considered as somewhere for established artists only, and as much as the galleries do feature established world-recognised artists, the building is very much for everyone."
The night, which is for anyone with a passion for music, takes place on the last Thursday of each month in the cafe in mima.
It starts at 18:00 and finishes at 21:30 BST. It's free until 19:00, with a £2 charge afterward.
"We plan on having themed nights for people with different tastes and interests. I'm also looking into attracting established artists, and seeing if we can get them playing along side our Boro talent in the future," said Gavin.
"I'd love to see ukulele next month, then jazz, folk, brass and strings.
"I'm lucky to be joined by Jamie Thompson, a local lad who shares my enthusiasm for local music.
"We don't get paid for it though, it's not about the money... I'm it for the love."