Hartlepool beach find medal given to family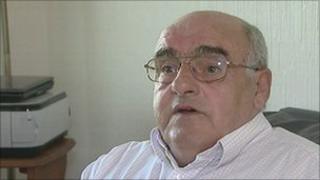 A Teesside family has been reunited with their relative's World War I medal 64 years after he died.
The medal awarded to Robert Pollard was dug up on Seaton Carew beach, Hartlepool, by a metal detector enthusiast.
After a local paper article about the find, Mr Pollard's great nephew Bill Pollard realised whose medal it was.
He believes Mr Pollard's widow may have thrown it into the sea in her grief when he died in 1947.
He was a Royal Navy reserve and was a stoker on a steamship.
The silver medal features a horseman on the front and Robert H Pollard is inscribed on the side.
Mr Pollard said he would keep the medal and pass it on through his family.
He said: "It's not just looking at a medal, they're looking at a history."