People 'positive' about Hartlepool minor injuries unit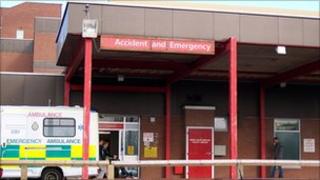 People are "positive" about the service they receive at a new minor injuries unit, a Teesside health trust has said.
Hartlepool's One Life Centre opened following the controversial closure of the accident and emergency department at the town's hospital in August.
The majority of users who responded to a week-long survey by North Tees and Hartlepool NHS Foundation Trust gave positive feedback.
A public meeting about the town's health service is being held later.
The A&E unit at the University Hospital of Hartlepool closed after a review concluded it could not attract enough senior staff to run the service safely.
Under the new arrangements, patients are now treated at the town's £20m One Life Centre, the emergency assessment unit at Hartlepool's hospital or the A&E unit at North Tees Hospital, in Stockton.
However, campaigners believe a town the size of Hartlepool should have its own A&E department.
Hartlepool Council has arranged a public meeting, after an earlier one had to be adjourned for safety reasons when too many people turned up.
North Tees and Hartlepool NHS Foundation Trust has said it will be carrying out regular surveys to gather comments and feedback on the service offered by the minor injuries unit.