Reward after marsh harrier shot in Barnard Castle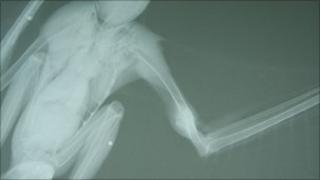 A reward of £1,000 is being offered after a protected bird of prey was found with three shotgun wounds.
The Marsh Harrier was discovered with wounds in both wings and a leg near the village of Bowes, near Barnard Castle, County Durham, three weeks ago.
It has been cared for by a retired local vet and Durham Police said it was making a "fantastic" recovery.
The Royal Society for the Protection of Birds (RSPB) is offering the reward and hopes to prosecute the culprit.
All birds of prey are fully protected under the Wildlife and Countryside Act 1981 and anyone caught harming them can be sent to prison for six months or be fined a maximum of £5,000.
Guy Shorrock, RSPB senior investigations officer, said: "This is yet another appalling example of the crimes which continue to be committed against birds of prey.
"The Marsh Harrier was formerly extinct because of human persecution, but the population has started to recover well in the last 30 to 40 years.
"Like many other birds of prey it continues to suffer from illegal persecution."
There are fewer than 400 breeding pairs of Marsh Harrier in the UK - it thrives in lowland wetland and farmland habitats.
PC Clare Addison, rural communities liaison officer for Durham Police, said: "We rely on the public to be our eyes and ears regarding wildlife crimes such as this, so if anyone has information please get in touch."