Seaton Carew beach warning during defence work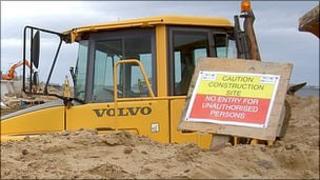 People have been advised to avoid an area of beach on Teesside where coastal defence works are under way.
The warning, by Hartlepool Council, follows two recent incidents at Seaton Carew which resulted in children becoming stuck in extremely soft sand.
In the most serious a 16-year-old boy sank waist-deep and became trapped when one of his feet became stuck under a rock.
With the tide coming in, emergency services were called to release him.
Warning signs have been put in the area, between the Staincliffe and the Station Lane slipway.
Debbie Kershaw, the council's quality and safety officer, said: "We are just grateful that no-one was seriously hurt, but the incidents do concern us and we want to ensure that nothing like this happens again.
"We would appeal to people to stay well clear of the area of beach next to the sea wall where the work is being carried out because, after all, it is a construction site."