Revival for little tern colony at Crimdon Denemouth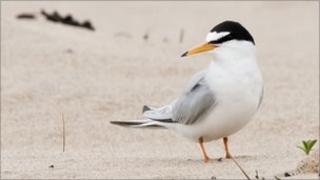 A colony of little terns has bounced back after a "disastrous" breeding season, to produce a record number of young on an east Durham beach.
The colony, at Crimdon Denemouth near Peterlee, has in recent years been one of the most productive in England.
But last year's colony was decimated when kestrels took almost every chick.
However, conservation experts said the last harsh winter and a new protective fence had helped the birds produce a record 147 young this year.
Little terns are among the UK's rarest sea birds.
Efforts to protect the colony were led by the Industry Nature Conservation Association (INCA).
Hiding places
Voluntary warden Trevor Stephenson said: "I was not really looking forward to the 2011 nesting season after last year's disastrous results.
"Last year, we saw a record number nest on their traditional site at Crimdon Denemouth, only to have nearly all their chicks taken and eaten by kestrels.
"It was enough to make a man weep to see these little birds, having flown all the way from Africa, only to have all their chicks predated.
"This year's success was down in part to the impact of winter, which saw rocks and debris deposited on the beach, providing places in which the birds could hide their chicks.
"Then volunteers erected a fence on the beach to further protect the terns.
"We waited with trepidation, but it has turned out to be a record year with 84 birds raising 147 young."
In 2009 birds at the site produced 118 young.