Barnard Castle footbridge would be 'longest in UK'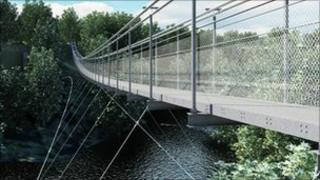 A proposed suspension bridge for walkers in County Durham would be the longest of its kind in the UK, according to the council.
The 870ft (265m) structure over the River Tees at Barnard Castle could also be part of a riverside walk created by connecting existing rights of way.
It is hoped the plans would attract more tourists to the town and boost the area's economy by up to £1.5m a year.
The county council is seeking the views of residents and local businesses.
An exhibition is being held at Newgate Street Studios in Barnard Castle on Tuesday.
It will feature plans and 3D imagery, and council officials will be available to answer questions.
Councillor Neil Foster, cabinet member for regeneration and economic development, said: "Teesdale continues to see economic growth and I firmly believe that, should this scheme come to fruition, there would be significant economic benefits for local residents, shops and businesses."