Empty homes Redcar scheme helps jobless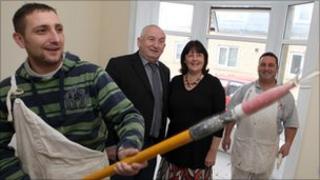 A Teesside project has brought empty homes back into use while helping jobless people gain new skills.
Coast and Country, a social housing firm, has refurbished 11 empty homes in the Redcar area ready to rent.
Nine volunteers, who were either in need of a home or out-of-work, helped to do up the homes for free in exchange for learning new skills.
Now the scheme, which is also run by Redcar and Cleveland Council, is planning to do up 10 more properties.
Under the project, landlords with homes which have been unoccupied for a long period get them refurbished for free in return for leasing them to Coast & Country for a few years.
Michael Craddock, 30, has been in and out of work for years, and has applied for up to 100 jobs.
But rather than sit at home getting "depressed" he volunteered for the Empty House scheme.
Over the years he has turned his hand to plastering, as well as painting and decorating and for the last seven months has given up two days' a week helping refurbish homes.
Mr Craddock, of Skelton Green, Saltburn, was also homeless for a few years, sleeping on friends' sofas after splitting up with a girlfriend.
'Welfare culture'
He said: "I wasn't sleeping rough, but didn't have a home for a while - it was hard. It gets you down, but I'm not one to sit twiddling my thumbs.
"In this economic climate jobs are few and far between, but I'm hoping the volunteering will lead to something more permanent."
Iain Sim, chief executive of Coast and Country, said: "We are determined to try and reverse the culture of welfare dependency which prevails in some of our communities."
Mr Craddock now rents a home with his girlfriend and is hoping to get a minimum wage job painting and decorating.
John Bird, founder of the Big Issue homeless magazine recently visited the project.
He said: "People achieve much more by being given a 'hand up' rather than a 'hand out'".