North East councils 'ready' for third harsh winter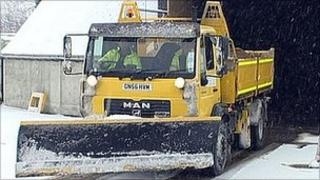 Councils across County Durham, Teesside and North Yorkshire say they are confident they can cope with another harsh winter.
Local authorities will spend more than £11m on keeping vital roads open, with most boosting stocks of gritting salt.
Durham County Council has set aside £2.75m and already has 45,000 tonnes of salt and grit stockpiled.
North Yorkshire County Council plans to spend £6.2m and has 55,000 tonnes of salt in storage.
A spokesman for North Yorkshire County Council said: "Our budget this year is £6.2m. But if severe weather continues, we continue gritting, even if it means exceeding the budget.
"We have 55,000 tonnes of salt in stock, which means our salt barns are full.
"We grit 50% of the county's 5,600 miles (9,000k) of roads and have the largest highways network in England."
Redcar and Cleveland Council said its fleet of gritters would operate from the Boulby Potash Mine for the first time this year in an effort to maintain supplies. It has set aside a winter roads budget of £500,000.
Durham County Council said it planned to pay 60 local farmers to help with snow clearing in outlying areas.
Contingency plans
A spokeswoman said it was difficult to say how long salt stocks would last but that contingency plans were in place to restock from foreign suppliers if necessary.
All councils said gritting would be focussed on main commuter routes.
A spokeswoman for the Department for Transport said: "We continue to take action to ensure that the country will enter this winter season well prepared.
"It will now be for local authorities to ensure that they are ready and prepared in tackling any severe wintry weather that we may face."
Middlesbrough Council said it also planned to bolster its 5,000 tonnes of stockpiled salt with a further 3,000 tonnes from the Boulby mine.
Hartlepool Council said it had 1,500 tonnes of salt and Stockton Council 2,750 tonnes.
Stockton Council Said it had a budget of £515,000 and a salt stockpile of 2,750 tonnes
Darlington Council said it 6,000 tonnes stockpiled and had set aside a budget of £464,000.