Redcar lifeboat plea to seafront drivers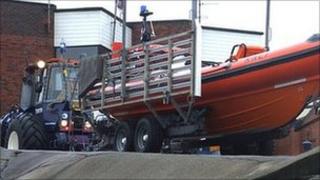 Motorists and fishermen in a Teesside town have been asked to help ensure a lifeboat remains operational.
The Redcar lifeboat slipway has been closed due to ongoing work to improve the town's sea defences.
While it is being carried out, RNLI volunteers will have to launch from one further along the Esplanade.
The larger lifeboat will have to be transported in a launching carriage, and motorists have been urged to pull over to give it room to manoeuvre.
Anglers have also been asked to keep the slipway opposite Dundas Street, or the Royal or the Granville Terrace slipways clear.
The work is part of a £30m project to improve the town's promenade and sea defences.
Dave Cammish, lifeboat operations manager at the Redcar RNLI station, said: "I'd appeal to road users and boat owners to give our crew extra consideration.
"Please keep the other slipways clear so we get uninterrupted access at all times.
"If you see the lifeboat being moved along the road in its launching carriage, I'd ask drivers to please pull over to give the crew room to manoeuvre."