Student Loans Company evacuated after white powder find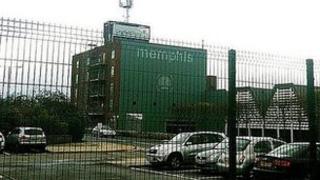 Hundreds of staff at the Student Loans Company building in Darlington were sent home after a suspicious white powder was found in a package.
One of 700 employees at the Lingfield Point business park site reported feeling unwell after opening an A4 envelope containing the powder.
Police said it was not thought the powder was dangerous, but tests are being carried to identify its origin.
The employee is said to be recovering after medical treatment at the scene.
Durham Police's assistant chief constable, Michael Banks, said: "This incident is under control and I must reassure people that we are not aware at this stage of any risks to the wider public."
'Minimum disruption'
Derek Ross, director of operations at Student Finance England, said: "We took the decision to send staff home as police carried out their investigations.
"The Darlington site is now safe and staff will return for their next shift as normal.
"We have taken steps to ensure there is minimum disruption to our customer service.
"Our Student Finance England calls are being answered at our other sites.
"Our dedicated EU student phone number is currently unavailable. We are sorry if this incident disrupted our service for customers.
"Police investigations are ongoing."