Stockton teenagers made to clean up their own graffiti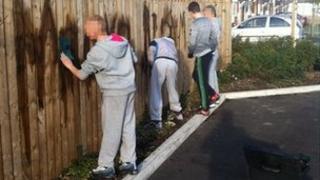 A group of five teenagers have been made to clean up their own graffiti from a new Stockton play park.
The youths, aged 13 and 14, admitted drawing tags on the park and its fencing.
The teenagers' parents were asked by Cleveland PCSOs and Stockton Borough Council's Anti-social Behaviour Team to make them clean up the damage.
PCSO Lee Butterworth said it was "important" the graffiti writers learnt "a lesson".
The group removed the graffiti from the park on Romford Road, with the help of some of their friends who were not involved in the damage.
Mr Butterworth said: "Once we had identified those responsible we felt it was important that they spend the time it takes to clean off the damage that they had caused, rather than someone else doing it.
"I'm pleased that their parents were on side and once the damage had been cleaned, news quickly spread to the surrounding estates with the young people talking about the action that we had taken."