Stockton man Dennis Forster jailed for web grooming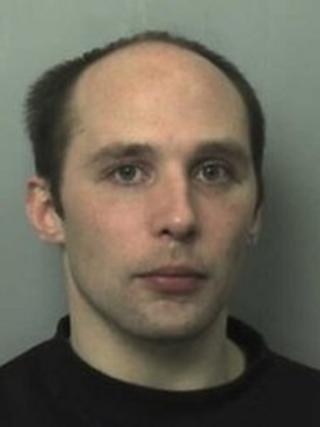 A Stockton man who preyed on girls online and threatened some of them has been jailed indefinitely.
Dennis Forster, of Corporation Street, used chatrooms and social networking sites to contact more than 200 girls online, Teesside Crown Court heard.
He sent gifts to some of girls, who were all under 15, before asking them to perform sex acts online or to send indecent images.
The 27-year-old admitted 22 charges relating to 11 girls.
They included incitement to engage in sexual activity with children, incitement to involve the girls in pornography and incitement to prostitute a child.
The court heard the security guard tried to arrange meetings with some of the girls and talked about having sex with them.
It was told others were persuaded into carrying out his requests with threats about turning them into prostitutes.
'High risk'
Forster sent one girl a mobile phone, necklace and a wedding ring through the post, the court heard.
When police began investigating the contact between them, he threatened to burn down her mother's house.
Judge Howard Crowson said Forster, who was sentenced via videolink, was being jailed indefinitely for public protection. He cannot be assessed over whether he is safe to be released for six-and-a-half years.
The judge said: "You continue to pose a high risk of harm which in my judgement is unmanageable in the community."
Stephen Constantine, defending, said Forster had never met any of the girls and there was "no small degree of fantasising" about the offending.
The mother of one of the victims said it highlighted the need for parents to remain vigilant.
She said: "It is neither the children nor the sites that are to be blamed but the predators such as Forster who utilise them for their own depraved purposes."
Det Con Stuart Hodgson, of Cleveland Police, welcomed the sentence of the "very dangerous offender" and thanked the victims and their families for their courage.