Axed Teesdale bus services saved by new contract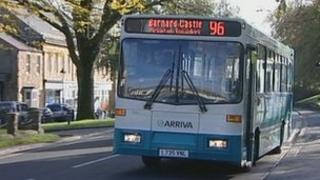 Durham County Council has found a new contractor to save rural bus services in Teesdale which were facing the axe.
Arriva said that from January it would no longer operate the 95 and 96 services, which run from Barnard Castle to Middleton-in-Teesdale.
The council earmarked £75,000 to save the services and after negotiating with several companies, Scarlet Band was awarded the contract.
Arriva blamed spiralling fuel prices and low passenger numbers for the cuts.
The council was able to provide the money by pooling subsidies from routes no longer in operation.
'Public concerns'
The 95 and 96 services will now continue on Mondays to Saturdays.
The contract will also provide a number 85 service from Darlington at 16:30 on schooldays, supplementing the Arriva service at 17:10.
Councillor Neil Foster said: "I am really pleased that we have been able to respond to public concerns in Teesdale in such a positive way.
"Although we are in very difficult financial times, we also recognise the need to ensure that young people can get to their place of education and residents can get to work.
"It is these needs which have been the driving force behind deciding on the services we are able to save."
The replacement services will start on 3 January, providing a seamless transition for passengers.