Middlesbrough teenagers' app helps pupils' studies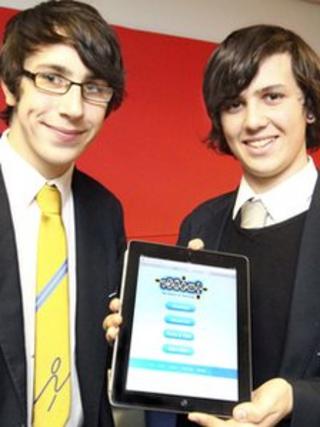 Two teenagers from Middlesbrough are helping fellow students by developing an app to use in the classroom.
Oakfields Community College pupils Liam Thompson and Aron Hendrickson, both 15, have developed a digital calendar to help plan coursework, homework and revision.
They came up with the idea of the app as part of their lessons in enterprise.
The teenagers said they used their "own school experience" to develop the software.
It also hosts exam hints and tips from teachers and has an interactive section where questions from pupils and answers from teachers can be left.
Aron said: "We started developing it in Year 10 when we had lots of coursework so we have put our own school experience into the app.
"It's like using a planner but pupils use their mobiles instead of using paper.
"We're trying to make education a bit more special and show that phones are not just a bad idea in school."
The software is compatible with several phones, which are no longer banned from the classroom to allow use of the app.
"We have had lots of feedback with people saying it's a really good idea," said Liam.
Phil Ainsley, enterprise and employability co-ordinator at Oakfields, said: "Liam and Aron taking a full product to market at the age of 15 is incredibly exciting.
"This experience will unquestionably help them in their future careers."
Liam and Aron have sold the app to their school and have also set up their own company, Educational Solutions Ltd.