Billingham House row council legal bill reaches £95,000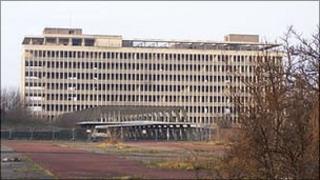 The bill for a legal row over the demolition of a 50-year-old derelict building in Stockton has reached £95,000, the council has revealed.
Billingham House, the former ICI headquarters, has been empty for years and repeatedly targeted by vandals.
Its owner Bizzy B Management wants to refurbish it, but lost a High Court appeal and Stockton Council was given permission to bulldoze the building.
But work has been delayed again as Bizzy B has lodged a further appeal.
Preparation work to demolish the building began in September after a judicial review at London's High Court ruled that Stockton Council could clear the site.
Bizzy B appealed against the decision but lost, and it has now applied for a further hearing to reconsider its application.
This will take place at the High Court on 20 January and, until then, demolition work on the site has been halted.
'Create 1,000 jobs'
Giris Rabinovitch, the London-based agent for Bizzy B, said the company was keen to regenerate the site and bring jobs to Stockton.
But Stockton Council said there had been too many delays to refurbish the building and it was an eyesore and needed to be flattened.
A council spokesman said: "Bizzy B has failed each time to persuade the court to develop the site. This has been going on since 2008 and the company will have to eventually have to pay our legal costs.
"We all want to see this blot on the landscape removed once and for all - and as quickly as possible."
In August 2010, Bizzy B signed a deal with property firm Middlesbrough-based Python Properties to redevelop the site.
Martin Johnson, spokesman for Python, said it had planned to regenerate the 1,800 square feet building and turn it into offices with the hope of creating 1,000 jobs.
He said he was confident the site would attract chemical, pharmaceutical and engineering firms - despite the recession - because of its central location.
He said: "It is a good, well-built building and we want to keep it that size. But if it was demolished it could not be rebuilt to that scale because of current planning regulations.
"It is insane that the council wants to spend public money demolishing the building when we want to invest £5m of private money and create 1,000 jobs."