Newton Aycliffe girl full of life at light switch on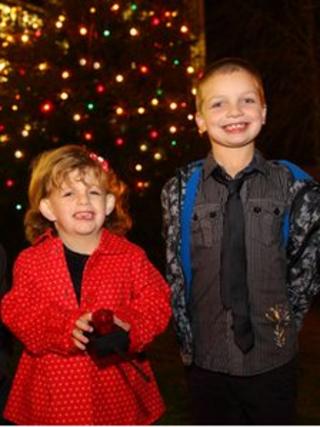 A four-year-old girl from Newton Aycliffe has lit up Durham for Christmas after surviving a life-threatening condition.
Rosie Foster was invited to switch on Durham's Christmas lights on Thursday with councillor Dennis Morgan and her brother Matthew.
When she was asked by the council to turn on the lights, she said: "Wow... yes please, thank you."
In August 2006, Rosie's parents Louise and Chris were told their unborn baby had a condition called a cystic hygroma and fetal hydrops.
Given only a 5% chance of survival by consultants, they were advised that even if the baby did reach full-term, he or she could have a chromosonal disorder.
However, the couple decided to go ahead with the birth and in October a routine scan revealed the hydrops had disappeared and the hygroma had began to reduce.
In December, Rosie was born seven weeks early and completely healthy.
"Rosie is completely healthy and full of life.
"She tackles everything she does with great gusto and the way she approached the switch on was absolutely typical - she puts her all into everything and certainly enjoyed her big moment," said Rosie's father.
Rosie has Turner's syndrome, a minor chromosonal condition that mainly affects height and fertility, however, it has no impact on IQ or life expectancy.
Mr Morgan said: "Rosie is an absolute inspiration. Full of zest for life and buzzing with energy."