Blood disorder sufferer Leon Zielinski in donor appeal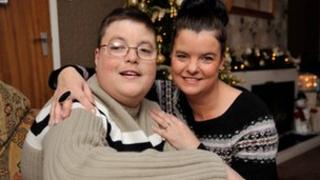 A 23-year-old Hartlepool student who has had more than 300 blood transfusions to keep him alive has backed an appeal for more donors.
Leon Zielinski has Diamond Blackfan anaemia which means his body cannot make enough red blood cells and he has to have regular transfusions.
Mr Zielinski's mother Joanne Armstrong was told he was unlikely to live to 13.
But the IT student has just received his 303th transfusion and said he "owed his life" to donors.
Mr Zielinski, who is studying at Hartlepool College of Further Education, needs to regularly receive two to three units of blood or his condition deteriorates and he becomes lethargic.
'Life or death'
Ms Armstrong said: "Doctors said when he was diagnosed that he would not see the age of 13 so he has proved them wrong.
"A lot of people think blood is always in the bank and is never going to run out, and not needed until there is a major accident or surgery.
"But if Leon did not get blood it would be a life and death situation. He is an inspiration to everyone and he never lets his illness get him down."
The NHS Blood and Transplant service needs 7,000 units of blood every day and more than 230,000 new donors every year to maintain stock levels.
A spokesman for the service said: "Just one unit of blood can save the life of three adults or seven babies."
Mr Zielinski said: "If donors did not take time out to help me and lots of others, I wouldn't be here today enjoying my life."