Sirens boost for Tees Valley Blood Bikes charity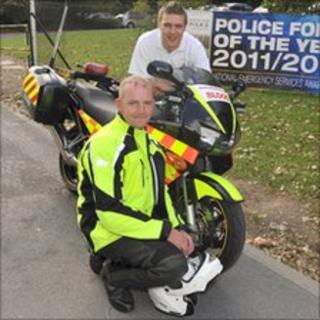 Volunteers who help keep Teesside hospitals and medical centres supplied with blood have been given dispensation to use sirens on their motorbikes.
The Tees Valley Blood Bikes charity also transports diagnostic specimens and medical equipment out of hours when normal courier services do not operate.
Police have now authorised riders to fit sirens to complement the lights they are already permitted to use.
These will help them filter through traffic and speed up journeys.
Riders are not allowed to exceed speed limits or contravene any traffic signs, and often turn off warning equipment while stopped at red lights waiting for them to change.
'Immensely proud'
The service was set up by two Cleveland Police community support officers earlier in the year, to provide support during evenings and weekends when the normal internal courier system is not operating.
Assistant Chief Constable Sean White said: "These two officers do amazing work in their spare time and are an asset to the force.
"In order to assist them in their voluntary work, they have been given special dispensation which will help them save more lives.
"Their passion and generosity is inspiring and they should be immensely proud of themselves."