Teesdale and Weardale mountain rescue man given award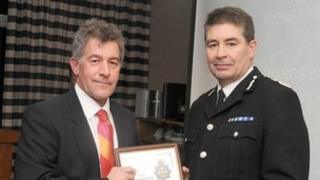 The former head of a North East mountain rescue team has been recognised for more than 15 years of volunteering.
David Bartles-Smith, from the Teesdale & Weardale team, received a Chief Constable's certificate of commendation from Durham Police.
He has been a member of the search and mountain rescue team for 16 years and was team leader for seven years.
He was presented with the award by Durham Chief Constable Jon Stoddart.
'Personal sacrifices'
Team leader Chris Roberts said: "Possibly his biggest contribution has been to search management within County Durham.
"David has spent countless hours not only co-ordinating searches, but also planning and reviewing incidents with Durham Police."
Head of Durham Police response command Ch Supt John Bell described Mr Bartles-Smith as a "totally committed professional".
He said: "In providing this level of support and over such a period, we should not overlook the personal sacrifices made by David over several years nor indeed the similar sacrifices made by other search team members for the benefit of others."